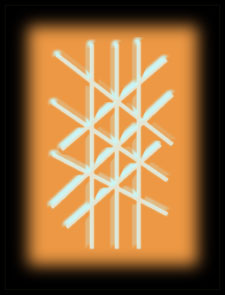 The website of sculptor and photographer
Nigel Williams
Here, you can find information about him, his sculpture, books, photography, fine-art prints and greetings cards.
Latest announcements: (for fuller details, see News page)
How does a man with no hair on top of his head...
...get to be President of the United States? No valets or servants required if you have help from a machine like this - learn all the secrets here.
Fishy business...
After the previous attempts to get heavy brass machines to fly, the latest contraption tries to conduct its business underwater without sinking. Learn about the latest servant-saving device here.
Famous for five minutes again...
Surely, it must be ten minutes by now...?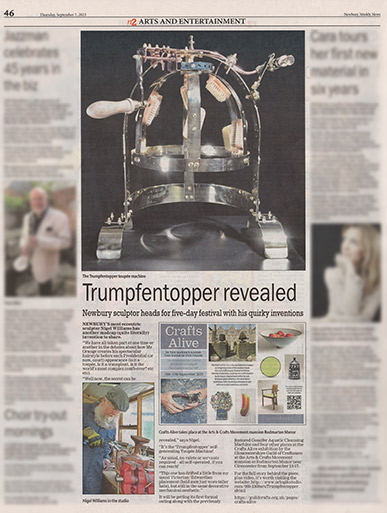 Nigel Williams has been featured in the Arts & Entertainment section of the Newbury Weekly News yet again, courtesy of the newspaper's Arts Editor Trish Lee, with an article describing the presidential secrets mentioned above. Read the full article here.
Earlier in the year, Nigel took over the front page of the Arts & Entertainment section, with an article describing the fishy item mentioned above. Read the full article here. This content can also be viewed on the newspaper's website here.
What's more, Nigel has also been featured in the 'Maker in Focus' series on the Gloucestershire Guild of Craftsmen's website. Read the interview here.
Oops, the military are involved now...
On dodgy ground now! Find out how to use the latest military stealth equipment to spy on your neighbour from a great height here.
Luxury for feet
Recent attempts to increase the wealth of Edwardians by reducing their dependance on servants and tradesmen have faltered slightly with the latest invention. It offers warmth and supreme luxury for the lower extremities of the body - but unfortunately requires a servant to operate it! Find out how to improve the quality of life for your feet here.
Recent collaboration results in convenient communications
Edwardians can now discuss their shopping lists while on the move, due to an astonishing collaboration between Guglielmo Marconi and Alan Turing. Find out how to have banal conversations anywhere here.
The continuing fight against domestic staff....
Too many servants? Well, here's a way to reduce the domestic help count, by employing a steam/rocket-powered automaton to keep your garden neat and tidy. The route to freeing up more of your income for leisure purposes can be found here.
....and now tradesmen too
The fight has now moved up to include untrustworthy lower-class tradesmen! Your chimney has traditionally created a regular need to hire contractors from outside of your household to clear it of the unwanted by-products of hosting warming fires - this need is now catered for by an ingenious new machine. The means to dispensing with the need for (expensive) external help can be found here.
This campaign has recently been extended to include brewers, maltsters and publicans. To find out how to consume a great pint of beer without involving any of these trades can be found here.
The scientists thought they'd escaped....
Now moving into the dodgy realms of alchemy in a vain attempt to get rich quick.... or just trying to figure out why I'm not rich? Find out how to avoid wasting your money on the National Lottery here.
Exhibitions
2017 included a solo exhibition at the Kempton Steam Museum in September - the home of the world's largest working triple-expansion steam engine. Highlight for 2018 was the Rodmarton Manor Sculpture Exhibition with the Gloucestershire Guild of Craftsmen in September. Outings for 2019 included Altered States in Newbury, Spetchley Park Gardens (near Worcester), and Avebury Manor. 2020 collapsed in a heap as we all know; the Oxford Sculptors Group 2020 exhibition at Spetchley Park Gardens was very successfull however, and a new opportunity to exhibit at the gallery of the Gloucestershire Guild of Craftsmen commenced on October 1st 2020. 2021 included further exhibitions at Rodmarton Manor and Spetchley Park Gardens. 2022 featured exhibitions in Tetbury, Cheltenham and Spetchley Park Gardens again. Another visit to Rodmarton Manor with the Gloucestershire Guild is lined up for September 2023. Otherwise, please explore this website in detail, regarding it as a 'virtual exhibition' (the trendy term for a 'website' during the pandemic), and do get in touch if you have any comments or questions. A full list of exhibitions with all details can be found here.
Other sculpture work
Attempts by Nigel Williams to improve domestic comfort continue unabated. The list of inventions now includes an automated home-cleaning robot here, a tool for dealing with giant moths here, a device to improve your experience in bed (really...!) here, a machine designed to improve the quality of your tea-drinking here, another intended to ease the lives of steampunk decorators (here), and a device designed to make short work of swarms - here (not to mention its opposite number for dealing with single very powerful bugs here). After work, a device for fortifying your tea might come in handy - see here.
Image gallery: "Pre-dereliction"
A gallery of images by Nigel Williams, entitled "Pre-dereliction", is available to view here.