Monitor Medusa
(or: "The Buflam Buffalo")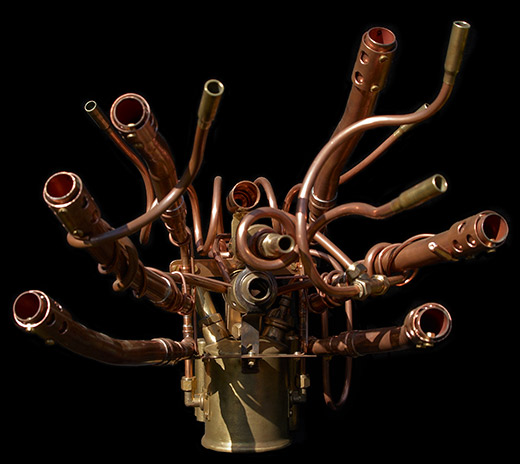 (Click on any image to enlarge)
This is the one for the lazy decorator: if you can't be bothered to move your blowlamp back & forth across the wall when you're stripping paint, just light up this one, and it'll strip the whole wall at once….!!
The title of this piece is taken from the name of the classic "Monitor" blowlamp, but (don't tell anyone!) this one is actually based on a "Buflam" blowlamp, manufactured by Chas. Twigg & Co - hence the alternative title!

Materials: brass, copper, shell cases, "Buflam" parafin blowlamp, Enots "Autoram" grease gun
Dimensions: 20" x 15" x 15" (56cm x 38cm x 38cm)
Weight: 25lb (11kg)
This piece was displayed at the "Manifestation" Art Exhibition at Steampunk Doncaster.

This piece also featured in the article entitled "The Science & Art of Domestic Bliss" by Nigel Williams in the Surrey Sculpture Society magazine "Limited Edition", which you can read here (2.8Mb PDF).
If you would like to buy any sculptures or are interested in including work in an exhibition, please contact us for details of viewing and/or shipping arrangements.
New sculptures are being created all the time, and pieces can be sold or go off to exhibitions at any time, so please check back here regularly for updates.
For details of exhibitions of work by Nigel Williams, please click here.