Munitio sanduskia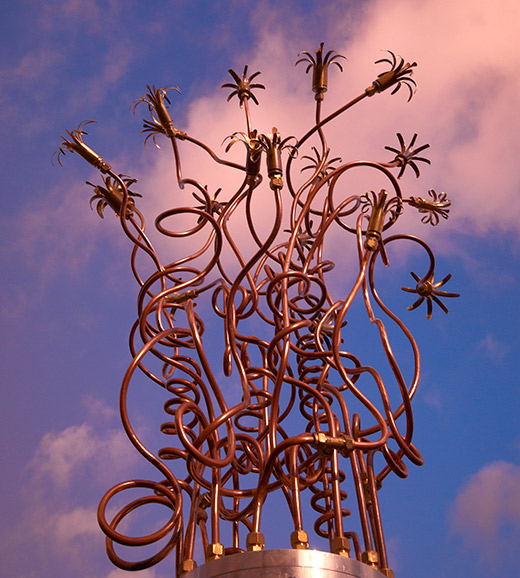 (Click on any image to enlarge)
Another "botanical form from spent armaments" work - this time utilising 20mm cannon-shell cases and approximately 90ft (27m) of re-cycled copper pipe.
The fake botanical-style name is partially derived from the name of a city in Ohio, USA that has an amusement park with the largest number of roller-coasters in the world - Sandusky.

Materials: copper, brass, aluminium alloy, shell cases
Dimensions: 30" x 28" x 46" (76cm x 71cm x 117cm)
Weight: 22lb (10kg)
This piece was shown at the "Sylvansmiths" exhibition, the Royal Landscape Savill Garden Sculpture Exhibition and as part of the Henley Arts Trail 2014. It was also displayed as part of the Oxford Artweeks exhibition, and at Romsey World of Water. This year, it has been seen at Sculpture in the Vineyard (Frilford Heath), and Sculpture on the Farm (Stewkley).
This piece featured in the article entitled "The Science & Art of Domestic Bliss" by Nigel Williams in the Surrey Sculpture Society magazine "Limited Edition", which you can read here (2.8Mb PDF).
If you would like to buy any sculptures or are interested in including work in an exhibition, please contact us for details of viewing and/or shipping arrangements.
New sculptures are being created all the time, and pieces can be sold or go off to exhibitions at any time, so please check back here regularly for updates.
For details of exhibitions of work by Nigel Williams, please click here.