Tormento pentaphylla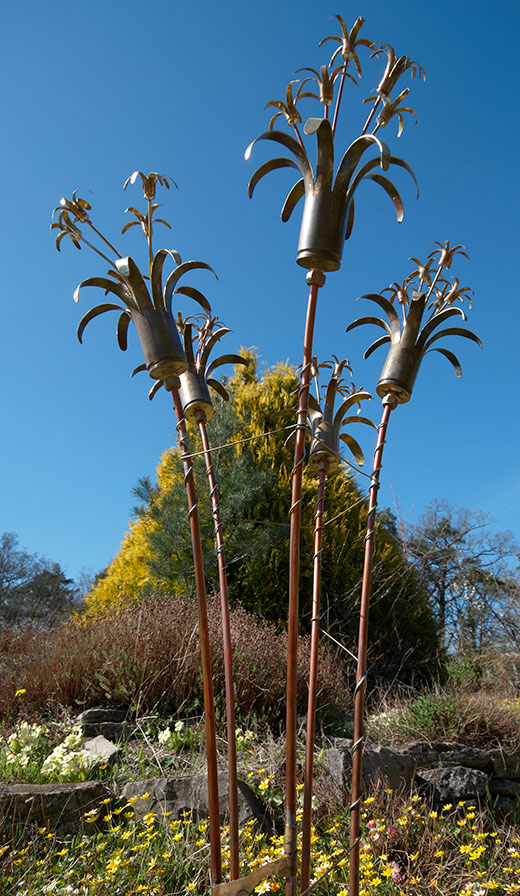 (Click on any image to enlarge)
Continuing the theme of botanical creation arising from spent munitions, this time with cases from large 40mm cannon-shells (perhaps designed to break through tank armour, or bring down aircraft), with smaller flowers constructed from regular 7.62mm calibre shell-cases.
The fake botanical-style name offers a nod to the base-5 design of this piece (5 long stems each supporting 1 large shell-case flower containing 5 smaller shell-case flowers); "tormento" is the Latin word for cannon. Probably best to avoid trying to say this name after you've been to the pub for a while....

Materials: brass, copper, bronze, shell cases
Dimensions: 40" x 26" x 24" (101cm x 66cm x 61cm)
Weight: 15lb (7kg)
This piece was shown at the "Sylvansmiths" exhibition, at the Royal Landscape Savill Garden Sculpture Exhibition, and at Romsey World of Water. It has been seen at Showborough House and Kiftsgate Court Gardens, and has also been on long-term display at Living Art, Hungerford.
If you would like to buy any sculptures or are interested in including work in an exhibition, please contact us for details of viewing and/or shipping arrangements.
New sculptures are being created all the time, and pieces can be sold or go off to exhibitions at any time, so please check back here regularly for updates.
For details of exhibitions of work by Nigel Williams, please click here.