The Massive Moth Immobiliser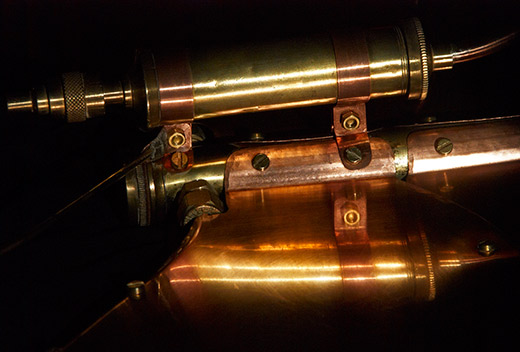 (Click on any image to enlarge)
Are your nights made miserable by a massive amount of moths in your home? Or are you troubled by a particularly massive moth? Or perhaps you just fancy a "massive moth" of your own....
The "Massive Moth Immobiliser" will become an asset to your home in all of these cases!

Materials: Abol Syringe No. 9 rose sprayer, brass, copper, grease gun
Dimensions: 26" x 23" x 4" (66cm x 58cm x 10cm)
Weight: 5lb (2kg)
This piece is supplied with its own custom-built transport cradle, and stand.
This piece was displayed at the Rowland Emett Society Convention, and at the North Wall Arts Centre, Oxford. It was also shown as part of the Oxfordshire Artweeks exhibition.
The piece featured in the article entitled "The Science & Art of Domestic Bliss" by Nigel Williams in the Surrey Sculpture Society magazine "Limited Edition", which you can read here (2.8Mb PDF).
If you would like to buy any sculptures or are interested in including work in an exhibition, please contact us for details of viewing and/or shipping arrangements.
New sculptures are being created all the time, and pieces can be sold or go off to exhibitions at any time, so please check back here regularly for updates.
For details of exhibitions of work by Nigel Williams, please click here.