Flickendorfer's Celebrated Tea Refinery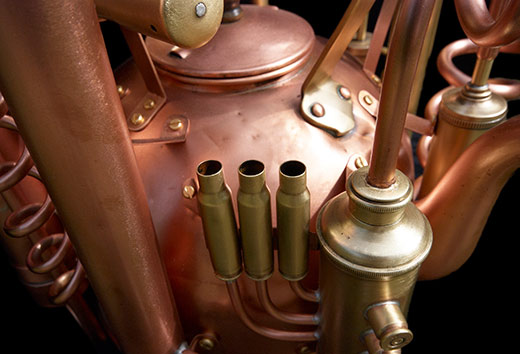 (Click on any image to enlarge)
Do you love tea, but have always hankered after something a little fresher, with just that extra bit of flavour and life?
Well, with this very modern device, you can now make your own tea, just (and only) when you need it, using freshly-picked leaves straight from your own plantation!

Materials: Premier Systems electric copper kettle (serial number 9657), brass, copper, shell cases, grease guns, spirit burner, cooker parts
Dimensions: 14" x 14" x 20" (35cm x 35cm x 50cm)
Weight: 13lb (6kg)
This piece was shown at the Art Exhibition associated with the Asylum V Steampunk Festival, and the Oxford Art Society exhibition. It was also displayed at the Rowland Emett Society Convention, at Whittard of Chelsea in Covent Garden, London, and at the Savill Garden. In September 2017, it was shown at Kempton Steam Museum in London, and in 2018 at Rodmarton Manor. It has been seen at Spetchley Park Gardens, and is currently on display at the Gloucestershire Guild Of Craftsmen Gallery in Montpellier, Cheltenham.
This piece featured in the article entitled "The Science & Art of Domestic Bliss" by Nigel Williams in the Surrey Sculpture Society magazine "Limited Edition", which you can read here (2.8Mb PDF).
If you would like to buy any sculptures or are interested in including work in an exhibition, please contact us for details of viewing and/or shipping arrangements.
New sculptures are being created all the time, and pieces can be sold or go off to exhibitions at any time, so please check back here regularly for updates.
For details of exhibitions of work by Nigel Williams, please click here.