The "Concentrator"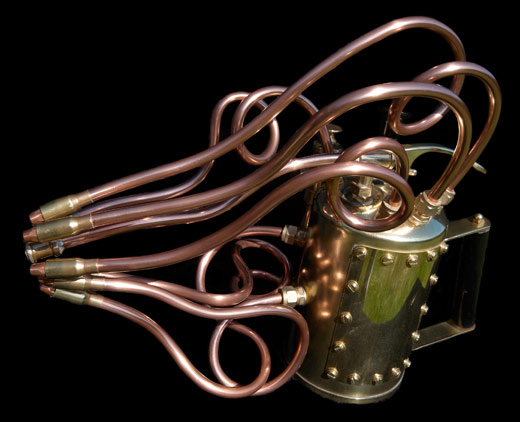 (Click on any image to enlarge)
Perhaps you found that the Swarm Eliminator ("Vimworthy's Patented"...) is great at taking out swarms of small beasties, but not so good when you want to focus on one very large and particularly irritating bug? Well, The Concentrator, its partner-in-crime, is designed to address that! It directs its entire output of one main and seven secondary high-powered spray nozzles onto the same spot, and, fitted as it is with two-stage compression equipment, it is guaranteed to eliminate that larger and more difficult bug in an instant!

Materials: brass, copper, shell cases, garden sprayer, grease gun
Dimensions: 14" x 11" x 7" (36cm x 28cm x 18cm)
Weight: 9lb (4kg)
This piece was displayed as part of Oxfordshire Artweeks, along with its partner "Vimworthy's Patented Swarm Eliminator". The pair have been seen again together at the Sculpture at the Shed Exhibition, Tetbury, where images of this piece were selected for the signature banner on the venue website, seen here. In September 2017, they were shown at Kempton Steam Museum in London, and have also been on long-term display at Living Art, Hungerford. In August/September 2020, they were seen at Spetchley Park Gardens.
If you would like to buy any sculptures or are interested in including work in an exhibition, please contact us for details of viewing and/or shipping arrangements.
New sculptures are being created all the time, and pieces can be sold or go off to exhibitions at any time, so please check back here regularly for updates.
For details of exhibitions of work by Nigel Williams, please click here.