Thrussell & Trobbs Foot-warmer, toe-tickler and ankle-polisher
"Another magical masterpiece."
Mike Bigland, Sculptor & Engineer - Cheltenham, UK
"How fabulous is that!"
Melissa Cole FWCB, Master Blacksmith - Wiltshire, UK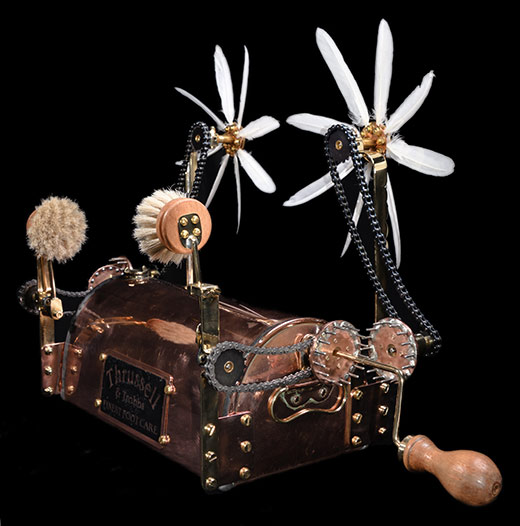 (Click on any image to enlarge)
Remember those draughty journeys in a rotten old train, or a horse-carriage - or even one of those new-fangled automobile things - where your feet were saved from freezing completely solid for a short while by a copper foot-warmer filled with hot water from the engine? Well, this device offers that same functionality, but with a few added touches of luxury suitable for the deserving (and well-heeled) Edwardian gentleman. As well as warming your feet, it will caress all your bare toes with the lightest touch of a set of animated duck and goose feathers. If that weren't enough, it also polishes both ankles simultaneously using a pair of the finest horse-hair brushes for a comfortable and soothing action.
There is one slightly frustrating flaw in the design of this machine, however: once you're settled in with your feet in exactly the right place to get the maximum benefit from the feet-warming, toe-tickling and ankle-polishing functions of this device, you can't reach the handle to operate it....
But then, what are servants for, after all?
Materials: brass, copper, steel, foot-warmer, miniature bicycle-chain, wooden brushes, duck & goose feathers
Dimensions: 14" wide x 16" deep x 18" high (36cm x 41cm x 48cm)
Weight: 5lb (2.2Kg)
Thrussell & Trobbs Foot-warmer, toe-tickler and ankle-polisher from Nigel Williams on Vimeo.
How does it work?
You (or your servant) turn the handle, which causes two sets (one for each foot) of eight-feathered tickler wheels to revolve, each feather tickling your toes on its way past - this way you get multiple feather-hits per revolution, dramatically increasing the tickle sensation. In addition, your left and right ankles are simultaneously polished by a pair of sumptuous soft brushes, separately revolving in an optimum arc around each ankle. By the end of your session, both your ankles will be as bright as a new pin.
How does it actually work?
The machine is constructed around a copper foot-warming tank, with a filler plug on the top. Turning the handle rotates a central brass drive axle mounted in polyoxymethylene bearings and running the entire width of the machine, powering two identical (but symetrically opposite) sets of machinery, one for each foot. Each set of machinery includes the following:

a set of custom-made pin-wheels to transfer the drive around 90 degrees to power:
a miniature roller-chain (precision-manufactured by Dunlop) across two sprockets (mounted on polyoxymethylene and brass bearings respectively), to take the drive up to a vertically mounted spinning brass disc with eight duck and goose feathers captive in a circle, arranged such that each one touches the user's toes with its tip on the way round its arc
a further miniature roller-chain across two sprockets taking the drive outwards to a crank, which drives a rod attached to a brush through a hold-bearing positioned such that the brushes describe a horizontally-biased ellipse around the user's ankles
Note: it's best not to fill the foot-warmer tank with water, because it's likely to leak like a sieve, considering the multiple punctures required to mount all the machinery clobber....
A note on the photography:
The piece was photographed inside my workshop, which had been completely blacked up (and blacked out) for the purpose, employing countless acres of muslin, cotton and velvet, suspended from a gazillion rods, pipes, pegs, clips, supports and clamps. The hydraulically-lifted table on which the piece was placed was similarly blacked out. The photographs were lit with one flash overhead and just to the right (mounted in a softbox), and another lower down and to the left, equipped with a diffuser. The two remote flashes were controlled from (and occasionally assisted by) a third flash mounted on the (hand-held) camera. The video was lit by a large diffused photo-flood above and to the left, assisted by a light panel mounted level with, and in front and slightly to the right of, the piece.
This piece recently featured on the front page of the Arts & Entertainment section of the Newbury Weekly News, courtesy of the newspaper's Arts Editor, Trish Lee. Read the full article here. It got its first physical showing at the Gloucestershire Guild of Craftsmen exhibition at Rodmarton Manor in September 2021.
If you would like to buy any sculptures or are interested in including work in an exhibition, please contact us for details of viewing and/or shipping arrangements.
New sculptures are being created all the time, and pieces can be sold or go off to exhibitions at any time, so please check back here regularly for updates.
For details of exhibitions of work by Nigel Williams, please click here.