The "Developed Frame" Series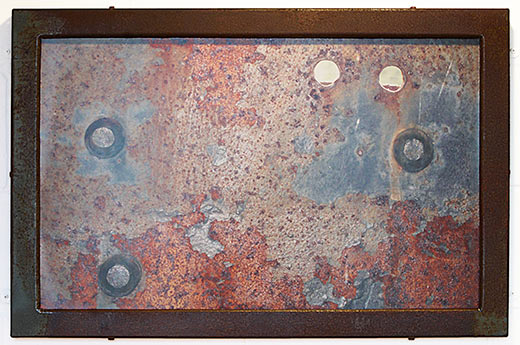 (Click on any image to enlarge)
After years of photographing "developed surfaces" (i.e. artifacts that started life with plain surfaces, but over the years "developed" into something much more interesting), the next logical step seemed to be to mount their images in "frames" which exhibited similar surface characteristics. Five seperate large pieces, and now three smaller pieces, have been created so far (see pictures above).
Materials: manipulated photography, steel
Dimensions:
"Glimpse": 36" x 24" x 2" (92cm x 61cm x 5cm)
"Shot": 36" x 24" x 2" (92cm x 61cm x 5cm) - SOLD
"Number 60412": 19" x 42" x 2" (49cm x 107cm x 5cm) - SOLD
"Triptych": 24.5" x 57" x 1.2" (62cm x 145cm x 3cm)
"Rotarian" : 32" x 42" x 1.6" (107cm x 81cm x 4cm) - SOLD
"Bolted" : 13" x 18" x 1" (33cm x 45cm x2cm) - SOLD
"Writhing" : 18" x 13" x 1" (45cm x 33cm x 2cm) - SOLD
"Threads" : 18" x 13" x 1" (45cm x 33cm x 2cm) - SOLD
The images below illustrate construction details of the steel structures which house the images (click on any image to enlarge):
These pieces formed part of the "A Matter of Time" exhibition at Arlington Arts Centre. More pictures showing additional details, together with views of these pieces on the wall are available here.
They were also shown (with the exception of "Shot", which was previously sold) at the Ark Centre, Basingstoke, and at the North Wall Arts Centre, Oxford.
The three smaller pieces were shown at the "Surface" Exhibition at the Ark Centre, Basingstoke.
These works were also shown at Sculpture Ardington.
"Glimpse" and "Triptych" were also seen at Sculpture on the Farm (Stewkley). "Triptych" was also on display at Sculpture at the Shed, Tetbury, and is now on show at The Sculpture Park
"Glimpse" was displayed in 2019 at Spetchley Park Gardens, where three new works in the series will be shown in 2021 (not documented here - you'll have to visit the exhibition to see them!).
If you would like to buy any sculptures or are interested in including work in an exhibition, please contact us for details of viewing and/or shipping arrangements.
New sculptures are being created all the time, and pieces can be sold or go off to exhibitions at any time, so please check back here regularly for updates.
For details of exhibitions of work by Nigel Williams, please click here.