Ferric Messenger
This sculpture was commissioned by the National Trust for the "Angel Garden" exhibition, held during December 2011 and January 2012 at their Mottisfont Abbey site.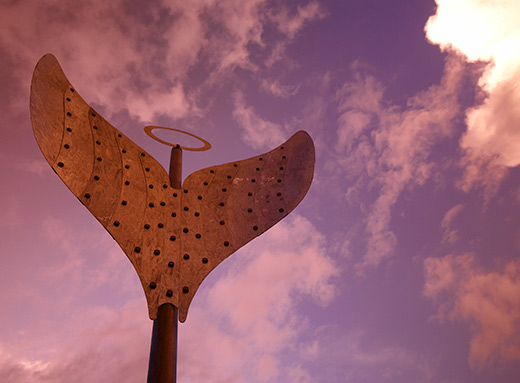 (Click on any image to enlarge)
Comments from Dr. Louise Govier, Visitor Experience & Communities Manager, National Trust, Mottisfont: "This looks fantastic! I'm now very excited...."
And after the surface finish was completed: "Wow, that is some patina!"

Materials: mild steel
Dimensions (not including support): 48" x 53" x 8" (122cm x 135cm x 20cm)
Weight : heavy!
Read the text from the plaque placed in front of the sculpture at Mottisfont here.
This sculpture has been featured on BBC television, and the "Angel Garden" event has also been covered by ITV Meridien Television, local radio, newspapers & magazines, and national newspapers. Read articles by the Southern Daily Echo, Hampshire Chronicle, Salisbury Journal, and Solent Life magazine (image, or online [pages 12-13]). Articles have also appeared in the 'Hampshire View' and 'New Forest Living' magazines.
The Mottisfont exhibition ended on the 29th January 2012, after being extended for a further month - but FIFTEEN THOUSAND PEOPLE viewed the sculpture there.
This sculpture was displayed at Arlington Arts Centre, as part of the "A Matter of Time" exhibition.
It also featured in the Surrey Sculpture Society Summer Sculpture Exhibition at the National Motor Museum at Beaulieu in Hampshire.
The piece underwent a dramatic transformation for the "Sylvansmiths" exhibition at the Turrill Sculpture Garden, see below: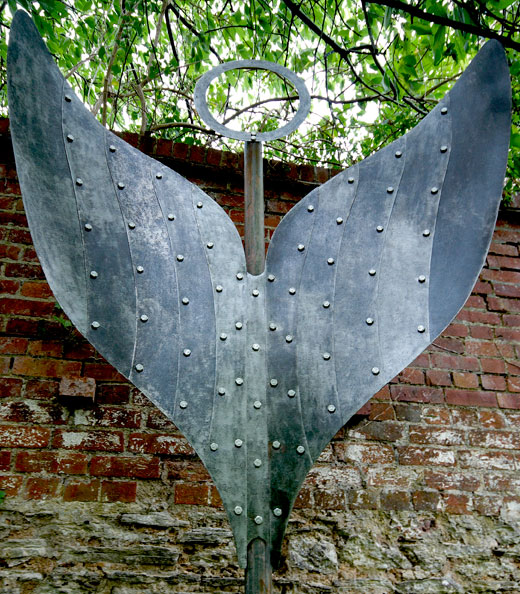 If you would like to buy any sculptures or are interested in including work in an exhibition, please contact us for details of viewing and/or shipping arrangements.
New sculptures are being created all the time, and pieces can be sold or go off to exhibitions at any time, so please check back here regularly for updates.
For details of exhibitions of work by Nigel Williams, please click here.