Fatal Mistake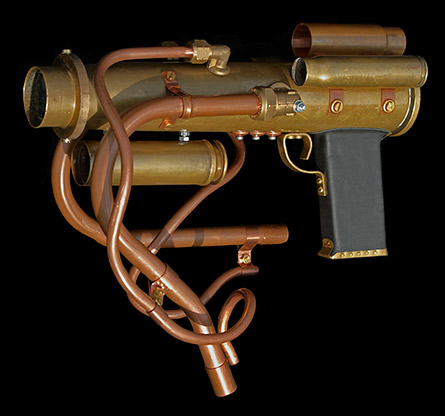 (Click on any image to enlarge)
This piece comes with a health warning - because if you were contemplating firing this "gun" on all barrels, you might end up making a.... fatal mistake! ;-) (follow the tubes!)
A firing/display stand, and a carrying case, are provided with this piece (see pictures above).
Materials: brass, bronze, copper, steel, marine ply, leather, World War II shell cases
Dimensions (without stand): 12.5" x 11" x 6.5" (32cm x 28cm x 17cm)
Carrying case dimensions: 14.5" x 16" x 12" (37cm x 41cm x 31cm)
Weight (without stand or case): 5lb (2.25kg); (with stand and case): 24lb (11kg)
This piece has been SOLD.
This piece was displayed at the "Sculpture at Kingham Lodge" exhibition.
This piece also featured in the article entitled "The Science & Art of Domestic Bliss" by Nigel Williams in the Surrey Sculpture Society magazine "Limited Edition", which you can read here (2.8Mb PDF).
If you would like to buy any sculptures or are interested in including work in an exhibition, please contact us for details of viewing and/or shipping arrangements.
New sculptures are being created all the time, and pieces can be sold or go off to exhibitions at any time, so please check back here regularly for updates.
For details of exhibitions of work by Nigel Williams, please click here.