The Edwin Budding Auto-Gardener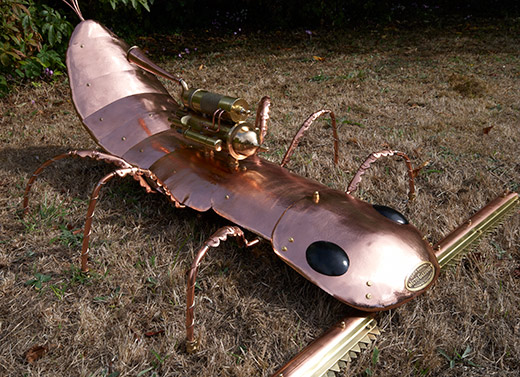 (Click on any image to enlarge)
When the talented engineer Edwin Beard Budding invented the lawnmower in 1830, little did he realise that he would later be approached by Charles Babbage who, fresh from his computing successes with Hubert Booth's vacuum cleaner (see The "ScaraBooth" Remarkable House-cleaning Automaton), was keen to add some autonomy to Budding's invention too. The result was the Auto-Gardener you see here, which does all the gardening completely automatically! This enormous machine will trundle round your garden, cutting the grass very neatly, trimming all the hedges, and sorting out any neighbour's cats that get in the way!
Why a Devil's Coach Horse beetle? Well, you've got to have somewhere to put all the works (computing machine, steam/rocket propulsion systems, fuel tanks, etc) and this beetle's body is voluminous, and can easily bend round corners and up & down banks, etc. In addition, six legs make the machine very mobile (not to mention stable on rough ground), and those great big eyes enable it to see exactly where it's going (even in the dark!) - so it was a natural choice!
After Budding produced his lawnmower, other manufacturers quickly took up the invention, sometimes including the word "Automaton" in the title of their product - as was the style of the day for any new-fangled device - but this machine really is an automaton, carrying out all the gardening tasks, unaided after its initial programming! (I wish!)

Materials: copper, brass, aluminium, grease guns, shell-cases, taps, etc
Dimensions: 50" long x 42" wide x 26" high (127cm x 107cm x 66cm)
Weight: 34lb (15Kg)
This piece enjoyed its first exhibition trimming a piece of topiary at Rodmarton Manor.
If you would like to buy any sculptures or are interested in including work in an exhibition, please contact us for details of viewing and/or shipping arrangements.
New sculptures are being created all the time, and pieces can be sold or go off to exhibitions at any time, so please check back here regularly for updates.
For details of exhibitions of work by Nigel Williams, please click here.