Cuprum fluenta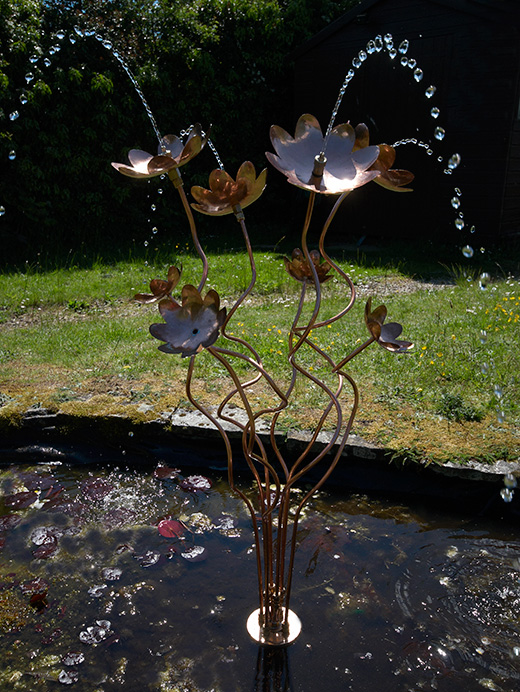 (Click on any image to enlarge)
An alchemist's attempt to mix copper and water - which worked!
With a base built around a fiendish bit of plumbing, this can put a stream of water 7-8 feet (2-2.5m) up in the air when fed with around 5bar of water pressure. Or you can turn the valves down and have a delicate trickle to lull you to sleep...
The faux botanical name for this piece is derived quite simply from the Latin words for copper (cuprum) and running water (fluenta).

Materials: copper, brass
Dimensions: 44" high x 23" wide x 22" deep (111cm x 58cm x 56cm)
Weight: 12lb (5Kg) including weighted base, but not mounting plate
Mounting plate (steel): 23" x 23" (58cm 58cm)
Weight of mounting plate: 13lb (6Kg)
Each of the four large 'wet' leaves is equipped with its own directable valve, allowing the flow to be tailored for any placement. The work does not come with a built-in overall valve, but its input is standard 22mm copper tube under the base, so it could easily be fitted with an in-line valve to control the flow for the whole piece. An ordinary underwater pond pump can easily be connected to the input copper tube using flexible plastic pipe and stainless steel jubilee clips or other fastening. If circulating pond water, a regularly-cleaned filter should be incorporated in the circuit (usually standard in most pumps) to prevent the small-bore copper pipes and brass spouts getting clogged with pond detritus.
This piece enjoyed its first exhibition at Spetchley Park Gardens in August/September 2019.
If you would like to buy any sculptures or are interested in including work in an exhibition, please contact us for details of viewing and/or shipping arrangements.
New sculptures are being created all the time, and pieces can be sold or go off to exhibitions at any time, so please check back here regularly for updates.
For details of exhibitions of work by Nigel Williams, please click here.