Armamentia latifolia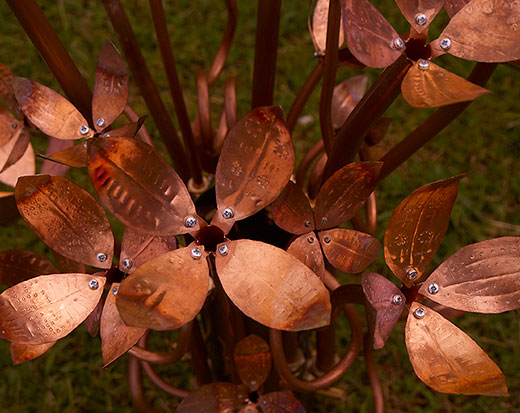 (Click on any image to enlarge)
This piece is another attempt to address the conflict between the ingenuity, imagination, creativity, and often genius, employed in the development of devices which are ultimately intended to kill large numbers of people: being an attempt to create something attractive from the remnants of armaments.
Materials: copper, brass, shell cases
Dimensions: 16" x 20" x 28" (41cm x 51cm x 71cm)
Weight: 11lb (5kg)
This piece was shown at the Hidcote Manor Gardens Sculpture Trail exhibition, the Oxford Sculptors Group Exhibition at the Turrill Sculpture Garden, Oxford, the "Sylvansmiths" exhibition, and the Royal Landscape Savill Garden Sculpture Exhibition. It was also displayed as part of the Oxford Artweeks exhibition, and at Sculpture on the Farm (Stewkley).
If you would like to buy any sculptures or are interested in including work in an exhibition, please contact us for details of viewing and/or shipping arrangements.
New sculptures are being created all the time, and pieces can be sold or go off to exhibitions at any time, so please check back here regularly for updates.
For details of exhibitions of work by Nigel Williams, please click here.