D.I.F.  or  Device of Indeterminate Function
"Magnificent! I feel suitably infernorated!"
John Nicholls, Sculptor and Curator - Berkshire, UK
"You really are a fabulous nutty professor!! I love it! To have that vision and be able to create things like that is amazing."
Sarah Nand-Lal, Researcher - Wales, UK
"I love it! It's like a Buck Rogers essential items travel case. Fills you with uncertainty about whether it's futuristic or antique."
Lindsay Waring, Sculptor and Teacher - Buckinghamshire, UK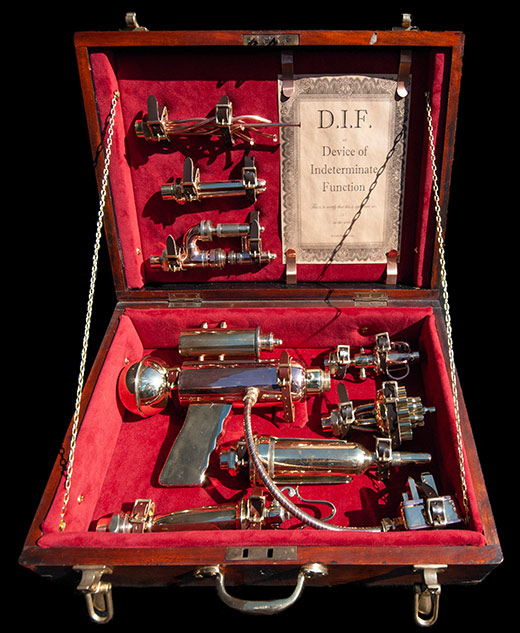 (Click on any image to enlarge)
My work normally has a very particular (fantastical) function, with a detailed (imaginary) story behind the development of each device and the individuals involved, accompanied by healthy doses of humour and irony. This is the complete opposite, with (deliberately) no discernible function at all.
It was inspired initially by the Rogers Vitalator, and reinforced by the Pifco Bakelite Massager, food mixers, vacuum cleaners, women's hairdryers, men's electric drills, etc, etc - all domestic appliances with a complex set of attachments available.
It has been designed with a working 'interface', so all the 'attachments' can be fitted to the 'appliance' in turn, with them all 'working' (not!). The seven 'attachments' are entitled Elucidator, Alleviator, Infernorator, Bifertigator, Cinerator, Quadfurcator and Ephemorator. The humour in this piece is indicated by the fact that, whilst appearing to be a sophisticated device with many complex functions, it actually has no application whatsoever.

Materials: brass, copper, wooden box, found objects
Dimensions: overall, in box: 21" wide x 23" deep x 17" high (52cm x 57cm x 42cm)
Weight in box: 27lb (12Kg)
This piece enjoyed its first exhibition at The South West Academy of Fine and Applied Arts exhibition at Exeter Castle in November 2019. In August/September 2020, it was seen at Spetchley Park Gardens, Worcester. From October 2020 to August 2021, it was on display at the Gallery of the Gloucestershire Guild of Craftsmen in Cheltenham, followed by a showing at the same group's exhibition at Rodmarton Manor in September 2021.
If you would like to buy any sculptures or are interested in including work in an exhibition, please contact us for details of viewing and/or shipping arrangements.
New sculptures are being created all the time, and pieces can be sold or go off to exhibitions at any time, so please check back here regularly for updates.
For details of exhibitions of work by Nigel Williams, please click here.