Yoruba transition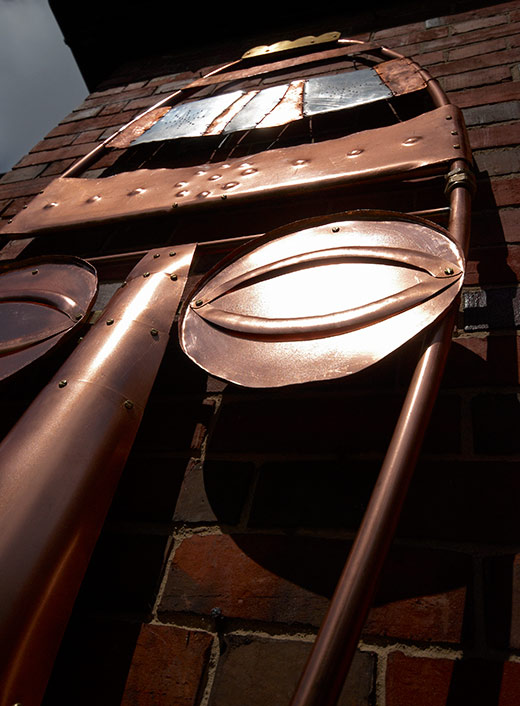 (Click on any image to enlarge)
A large (taller than me) modern African-style mask work, made from copper, brass and aluminium, with a mouth constructed from 56 spent shell cases. This and its title hint at an Africa that has greatly changed since the Yoruba tribe of Nigeria and Benin started constructing art from brass.
This piece looks great mounted on the side of a brick or timber building, but goes equally well indoors in a large hall or atrium, perhaps.

Materials: brass, copper, aluminium, shell cases
Dimensions: 71" x 29" x 5" (180cm x 74cm x 13cm)
Weight: 20lb (9Kg)
This piece was shown at Sculpture on the Farm at Stewkley, and at the Savill Garden. It has also been seen at Sculpture Heaven and Rodmarton Manor, and in 2019 was shown at Altered States. In August/September 2022, it can be seen again at Spetchley Park Gardens. Read a detailed article about the background and construction of this piece, published in the Surrey Sculpture Society magazine "Limited Edition", here.
If you would like to buy any sculptures or are interested in including work in an exhibition, please contact us for details of viewing and/or shipping arrangements.
New sculptures are being created all the time, and pieces can be sold or go off to exhibitions at any time, so please check back here regularly for updates.
For details of exhibitions of work by Nigel Williams, please click here.