Coronis oricalcinus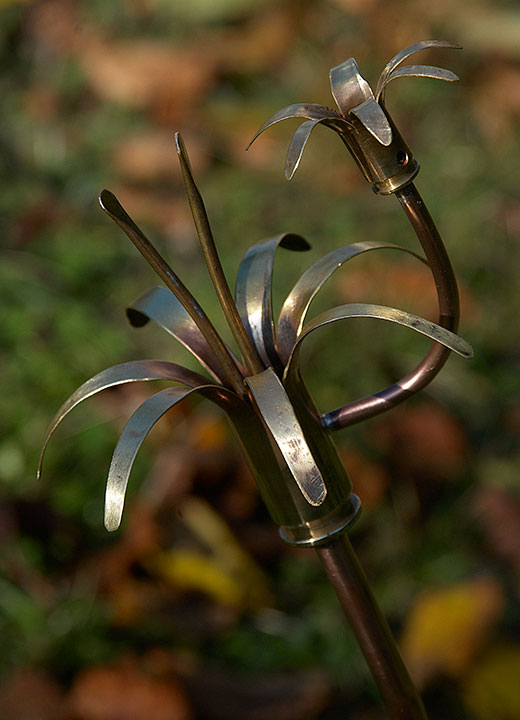 (Click on any image to enlarge)
With a fake botanical name meaning literally "Garland of Brass", this piece is designed in modular form, with the intention of forming a semi-circular ring of 5 elements on the ground - but there's no reason why a single (low-cost) element cannot be displayed on it's own (outdoors or in); or why a larger work cannot be built up using additional elements. Each element is supplied with a stainless steel rod, allowing it be supported in the ground, or in a pot filled with earth or stones.
Consequently, this piece can be purchased as a single element; or as a group of 5 or more (with appropriate "bulk discount"!); or in any desired group size....
So far, there are two styles of element: a single "flower" on a twisted copper stem; and a single flower sporting a smaller "sub-flower" extending upwards and to one side. "Garlands" can be formed from any number and combination of elements, but the initial suggestion is to use 4 simple elements with a 5th sub-flower-equipped element positioned between the others.
Materials: copper & brass
Dimensions: Each element: 17" x 5" x 5" (48cm x 13cm x 13cm)
Dimensions: Semi-circular ring of 5: 17" x 28" x 16" (48cm x 71cm x 41cm) approximately
Weight: Per element: 1lb (0.5kg)
This piece has been shown at Henley Arts Trail, Oxford Artweeks, Showborough House, Sir Harold Hillier Gardens, Wyndcliffe Court, and Romsey World of Water. It has also been seen at The Elemental Sculpture Park and Kiftsgate Court Gardens. More recent exhibitions include Altered States and Avebury Manor.
If you would like to buy any sculptures or are interested in including work in an exhibition, please contact us for details of viewing and/or shipping arrangements.
New sculptures are being created all the time, and pieces can be sold or go off to exhibitions at any time, so please check back here regularly for updates.
For details of exhibitions of work by Nigel Williams, please click here.