Pacific North-West Iron, by Nigel Williams
To PREVIEW or PURCHASE, click here.
To read a review by Picture-Soup editor Diane Berkenfeld, click here.
To read a review by Amateur Photographer magazine, click here.
Most photographers would return from a journey along the Pacific north-west coast of North America with a portfolio of stunning landscape images - beautiful seascapes, mountain views and wildlife shots.... but Nigel Williams has a different idea: he exploits his obsession for detail, along with an uncanny ability to ferret out all the hidden aspects of industrial, transport and military archaeology in any environment, to create a unique visual record of the parts that go un-noticed to most travellers.
The result is a book that presents a unique and unusual view of a journey through an ancient and beautiful landscape, which although relatively untouched by man (compared to, say, the east coast of North America....), still has sufficient mechanical evidence hidden away in the undergrowth to provide the basis for some fascinating images.
You will find the occasional gorgeous landscape, plus a few heart-rending sunsets - but if that's your main interest, this book is not for you. If, on the other hand, you like detailed textures (usually rust-coloured), old mechanical artefacts (normallly rusty), and broken-down buildings (quite often with rusty bits...), then this is the place for you!
Because the locations are specified, and each of the images are carefully captioned with detailed information and anecdotes, this book will appeal not only to lovers of creative photography, but also to transport enthusiasts, industrial archaeologists, military historians, and travellers.
13"x11" Landscape format, 80 pages, full colour, 119 images, 21 maps, hardcover; price: £58.92 / US$91.75 / €76,79 + shipping (but see also "Mini" edition in next paragraph)
(note that prices may fluctuate slightly due to variations in exchange rates).
For those who are attracted to this book, but find the price of the high-quality, large-format edition a little scary, there is a "Mini" edition, published in a much-more-affordable smaller portrait format; for full details, click here.
PREVIEW (takes a minute or two to load):
To purchase, click on the shopping-cart button above.
[If nothing happens when you click on the shopping-cart button, you may be having problems with your pop-up blocker. If so, click here to go there directly.]
Here are some examples of the fascinating images found within Pacific North-West Iron:
Comments from the late Dan Fullerton, previously Director of Innovation at Olds College, Alberta, Canada:
"ok - so I am biased. I am also pre-disposed to metal things and I have travelled through the same area that you did to capture the wonderful photographs. However, that said, you have once again forced us to look at the world differently. When we do this, we find many things including forgotten objects, that were crafted and created by people long gone. However, these aging visions, dreams and skills come to life in your book and remind us that there were many skilled people before us. I also notice the strength of the words and phrases, such as 'Prescott' and 'Maple Leaf 1600'. Clear. Concise. Meaningful. Just like your books.
I wish you every success with this latest book. You are doing important work that we are all benefiting from. When I read your books, I feel more connected to the past - and the future. Congratulations."
Picture-Soup review
The "Pacific Northwest Iron" book has been reviewed by Diane Berkenfeld, the editor of the Picture-Soup Photographers Resource. Diane has been a professional photographer for 20 years, and has covered the photography industry for the last 10, for such publications as Studio Photography magazine (as editor), and Photo Trade News magazine (again as editor). She has also been published in Professional Photographer magazine, ppmag.com website, Photo Industry Reporter, PIR PMA Show Daily, Distinction magazine, etc. Diane's review stated:
"The book is a collection of 119 images captured during his journey along the Pacific Northwest Coast of the U.S. and Canada, specifically Oregon, Washington and British Columbia. The book is titled Pacific Northwest Iron, and the images within are those of mechanical artifacts, often rusted and forgotten, that have become part of the landscape. Williams' obsession for not only detail, but discovering these sometimes hidden industrial subjects and creating photographs that transform these rusted, old, objects into abstract art, is what makes this a unique book.
What I like about this book is that the photographer has captured some great details that I'd bet are usually overlooked by passers-by to the areas along the Pacific Northwest that he traveled through. Among the occasional landscapes are close-up images of the locks and hinges of old iron doors, teeth of a tractor's scoop half hidden among the dirt so it looks like a zipper, and subjects like iron doors covered in chipped paint, broken window panes, and rust-worn objects that become abstract art, full of color and shadow. Some of the more interesting photos are the ones that capture a manufacturer's name or other description—that you know was forged decades ago."

Comment from The Word Zombie
The Word Zombie did not review the "Pacific Northwest Iron" book, because the subject is outside of his normal focus, but he did state: "I must compliment you on your work. Your photography is beautiful". the word zombie
Amateur Photographer magazine review
A review by Jeff Meyer of the "Pacific Northwest Iron" book was published by Amateur Photographer magazine (the world's oldest consumer weekly photographic magazine) in their 28th August 2010 issue. Jeff's review stated:
"Following on from his last release, K-scopes, Williams shows his creative flair by tackling quite an obscure subject - the colours and textures within old iron in America's Pacific Northwest region. You're probably thinking 'Huh?' But Williams captures rich colours and textures within the rust. Highly original."
Amateur Photographer double-page spread:
Amateur Photographer enlarged: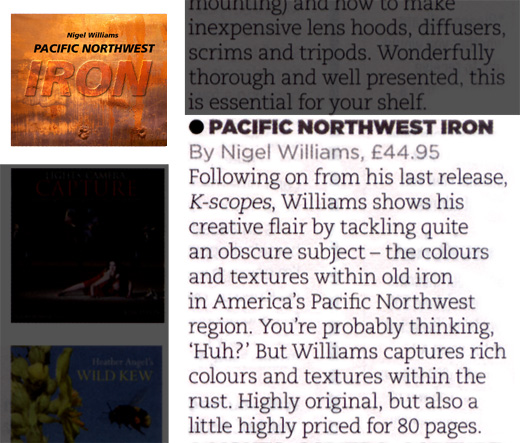 The Amateur Photographer website is here.